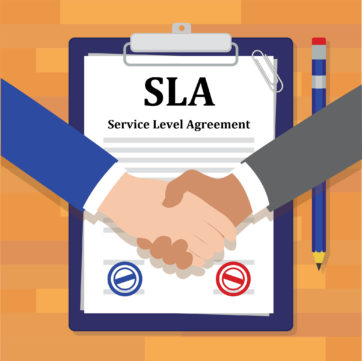 Most service providers understand the need for service-level agreements with their partners and customers. But creating one might feel daunting like you don't know where to start or what to include. In this article, we're sharing some examples and templates to help you create SLAs.
What is an SLA?
A service level agreement (SLA) is a documented agreement between a service provider and a customer that identifies both the services required and the expected level of service. The agreement varies between vendors, services, and industries.
SLA is an integral part of any IT vendor contract. It pulls together information about offered services and customer expectations in one document.
Before subscribing to an IT service, the SLA should be carefully evaluated and designed to realize maximum service value from an end-user and business perspective. Service providers should pay attention to the differences between internal outputs and customer-facing outcomes, as these can help define the service expectations.
Writing SLAs: an SLA template
The SLA is a documented agreement. Let's look at a sample SLA that you can use as a template for creating your own SLAs. Remember that these documents are flexible and unique. Make changes as necessary, as long as you include the relevant parties—particularly the Customer. And consider additional topics you may want to add agreements on, such as:
Review or monitoring. How often the Service Provider and Customer may review the SLA, perhaps annually.
Service credits. Something the Service Provider may offer in case your SLA is not achieved.
Rider. Used when amendments occur.
End-of-contract or liquidation terms. Defining how and when Customer or Service Provider can opt out of the SLA.