In Q2 2021, people spent a collective 9.0 billion hours watching live-streaming video game content around the world (and that's when we exclude China from the calculations)
We notice a massive increase from 3.8 billion hours watched in Q2 2019. This new high follows a 56.9% quarter-over-quarter jump in Q2 2020 when pandemic lockdowns set in worldwide. Watch time remains elevated a year on, as gaming enthusiasts continue to find entertainment in not only playing games but watching gameplay as well.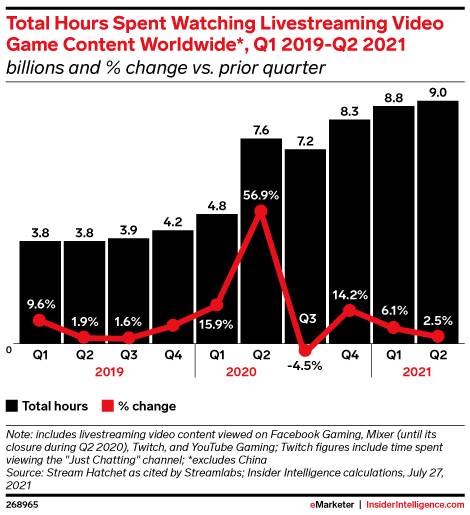 The European video game market increased 22% year over year (YoY) in 2020, as per Gamesindustry.biz. The total revenue for Europe's games industry was £23.3 billion ($26.57 billion), according to a report by the Interactive Software Federation of Europe and the European Games Developer Federation.
The gap between mobile and console games is closing. Mobile games made up 40% of total revenues in 2020, while console games made up 44%.
Games streaming, an emerging space in the market only made up about 2% of total revenues but still saw significant growth. Streaming revenue grew 16.5%, rising from £341 million ($388.8 million) to £397 million ($452.7 million). But streaming may make up a larger share of the market going forward, as more major firms like Netflix announce plans to launch games streaming services.
50% of Europe's population aged 6–64 plays video games according to the latest data. The 11–14, 15–24, and 25–34 age groups—demographics highly sought after by advertisers—have the highest shares of players. 47% of all European players are women, up two percentage points from 2019.
Overall average time spent with video games increased almost a full hour from 8.6 hours per week in 2019 to 9.5 hours in 2020, with 76% of respondents saying they play at least 1 hour of games per week regardless of their preferred platform.